Company Profile
Company Info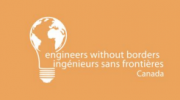 Engineers without Borders Canada
Butajira, SNP, Ethiopia
Company Description:
Engineers Without Borders Canada (EWB)​ is a Canadian NGO that invests in people and ventures to create a thriving and sustainable world. Bolstered by its network of 40 chapters and 1300 members, EWB provides seed funding, talent and mentorship to social enterprises throughout Sub-Saharan Africa. For more information on EWB, visit http://ewb.ca. Every year we recruit 25-30 outstanding people for the 12-month+ Fellowship, placing successful candidates in one of our early-stage Ventures located throughout Sub-Saharan Africa.
GreenPath Food is a socially-oriented agribusiness that produces organic produce in an environmentally-sustainable, organic manner in conjunction with a network of smallholder farmers. The company currently operates from its Butajira Production Area with a team of 15 staff and 58 Partner Farmers. GreenPath maintains a facility (the Farmer Service Center) with a cold store, nursery, and packhouse in Butajira, SNNPR. In the past 12 months, the company has (a) undergone successful organic certification, (b) begun exporting produce to Dubai, UAE, and (c) diversified its crop portfolio from 10 crops to 25. As a young, but growing company, GreenPath will expand to new production areas in the months and years to come with a vision to become East Africa's largest organic fruit and vegetable company. The Senior Staff at the organization are a group of highly talented professionals with experience in Ethiopian export horticulture, and agricultural development sectors, as well as direct experience in the Ethiopian start-up context. Each member of the team has a passion for improving the lives of smallholder farmers and increasing access to organically and sustainably grown, high-nutritious foods, and is committed to seeing GreenPath Food realize its core objectives. The GreenPath Brand operates in Ethiopia through Green Way Farms PLC. The individual hired for this position will be an employee of Green Way Farms PLC.
Jobs by Engineers without Borders Canada
There are no postings meeting the criteria you specified
Title
Company
Location
Posted