Company Profile
Company Info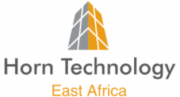 Horn Technology SARL
Djibouti, Djibouti
Company Description:
Horn-Technology provides world-class strategic IT leadership and hyper-efficient IT operational support, enabling our East Africa client-base to grow and transform their businesses.
Horn-Technology offers personal attention and value to every client, every time, and our commitment to customer service is unmatched in the industry. We serves more and more clients located in East Africa operating their critical IT networks and systems.
Jobs by Horn Technology SARL
There are no postings meeting the criteria you specified
Title
Company
Location
Posted